His passion:
Music (Chris Rea) and cars (Lotus, Caterham Super Seven), Racing
Motorsport: since 1981
Super Seven : since 1983
Achievements:
to 1995 five times Slalom Federal Champion RKB and 2 times runner up at Renault Alpine A110
1990 Short excursion Circuitracing in the Porsche 930:
2x best qualifying time Hockenheim GP Course,
2 x failed,
Euro Hill - Hill Climb: class and group win,
1997 - 1998 City Champion,
Regional trophy winners and Bavarianchampions at Opel Kadett C Coupé
from 2000: 2-time overall champion Clubsport Trophy to Caterham HPC 2004 + 2005
multiple winner of the special class "Seven" and "Seven IG" within the CST
3 times german slalom champion NAVC to Caterham HPC 2004 + 2005 + 2006
Thomas Böbel in his Caterham HPC at a CST event: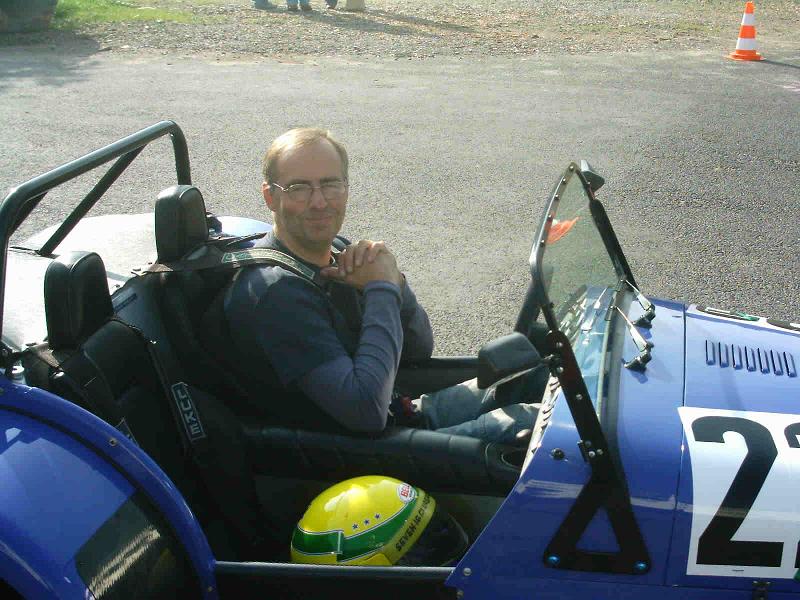 infected with the virus ... I myself as I age of 15 (as moped riders) for the first time have seen a Lotus Seven walking down the street.
Then I started collecting everything I could find about the car, which was very little in the 70s, a few small newspaper clippings and a Quartett card.
The first own Seven, finally in 1984, never since then without!
End of the 80th first motorsport applications with a big highlight: H 2000 cc class win and 2nd Place overall in the season finale of the Castrol Haugg Cup at the Nürburgring (GP circuit) and a slalom use in Nördlingen, then was promptly adapted to the regulations across Germany over the minimum weight of the Seven to ban the start.
At the same time I know about English literature of the existence of Black Brick, a seemingly unattainable desire taking shape - the desire to have this car.
From 1990 to 1993 a distributor of Seven Cars and Parts as Caterham - dealer for southern Germany.
Just in the comprehended foundation Seven IG from Werner Maurer I help with listings and join one.
In 1998, I install my first computer and put myself even on the first night in the www. on "the hunt" for the Black Brick. It is a thrilling quest that leads me to America. In early 1999 I discovered a tip in English Seven forum the last built Black Brick , in the semi-restored condition is the British tuner Raceline Zetec for sale.
Following tough negotiations over 18 months (!) and after twice personal visit we willreached an agreement .
In 2000 I set up the Clubsport Trophy, which develops after a bumpy first year very positive and all owners of a Super Seven, Lotus Elise and Opel Speedster for little money has the ability to operate motor sport. The CST is intended here to the concept of dual slalom events on a day program is offered at no risk to the driver and vehicle serious motorsport. The friendly "Seven Manias" Joachim Westermann, Holger Franz and Matthias Klemp operate with their circuit racing events, the high-speed Group, Werner Maurer / Seven IG completes the German offer by well-organized "free driving" on various circular routes.
In 2003, the German NAVC takes because my application on the Super Seven in its motorsport regulations, enabling all interested Seven pilots participating in a proper German championship ..
Till the end of the year 2006 I succeed in the CST with a Caterham HPC twice the overall win, as well as German NAVC - Slalom Champion 2004 - 2005 - 2006, also in Caterham HPC.
Between 2004 and 2007 the company Westermann Motorsports completed restoration of the built Black Brick and helping me to fulfill my biggest (car) wish! Thanks to Kuppenheim.